Being a solopreneur means you have to do the work of many people.
There's always more you can be doing, so time is of the essence. You also have to do things you may not even know how to do.
Apps are a powerful and affordable friend in your quest for success.
They're are continually updating and new ones emerge every day. They can give you help in areas like:
Time management
Invoicing
Managing your money
Travel near and far
Networking and contact management
And that's just for starters. Here's a big list of apps that will help you, the solopreneur (or even if you have business partners) work more efficiently and profitably.
1. Buffer
For social media management
There are 3.2 billion people on social media, which is just over 40% of the world's population. By the time you read this, it'll probably be more.
Marketing online usually needs to include a social media strategy, but this is time-consuming. You need to post to Twitter, Facebook, and the others regularly. You may even be able to get a virtual assistant to do it, but it still needs planning.
This is where app like Buffer can help. The mobile version allows you to create a schedule for your posts across the social media platforms. It will analyze the engagement of your followers. This allows you to adjust the time and information you post on social media. There are other apps like Buffer, but this tried-and-true platform keeps improving and adapting.
Get it from App Store  |  Get it from Google Play
2. Invoice Ninja
For invoicing
Do you find that you need to invoice while you're on the go? Solopreneurs often have clients all over the place, and it's hard to manage the invoicing and accounts economically. This is what Invoice Ninja does. The combination of a PC platform and mobile app gives you a full suite of invoicing tools.
You can create projects, track time, make invoices for clients, and receive payments. It's open source and the base plan is always free.
You can also personalize your invoices, letting you work the app into your brand. The platforms accept more than 40 payment gateways.
Get it from App Store  |  Get it from Google Play
3. Spark
For organizing and prioritize emails
This Forbes article says it best. Communication in business often doesn't work because a lot of the tools do the opposite of what you'd hoped for. They mess with your productivity, time, and inevitably how much money you make.
Most people will spend a good deal of their day going back and forth with emails. Targeted conversations are how you eliminate wasting all that time. Spark is an email app that prioritizes your emails and brings any important messages you should read to the top.
You can create your replies, which Spark also makes easy with their Quick Replies tools, then archive the rest by batch. It works with other apps and platforms too. You can turn emails into a task in Asana, or add conference call appointments to your calendar.
Email is a daily burden. A tool like Spark aims to greatly relieve that and free up your time.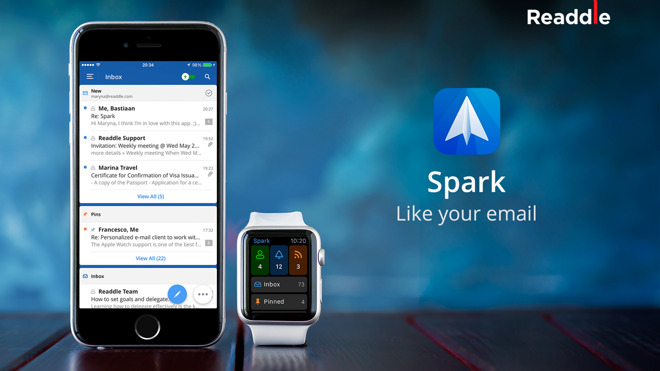 Get it from App Store  |  Get it from Google Play
4. Minterapp
For time tracking and invoicing
Minterapp is one of the best time tracking tools out there. It's all online. The time tracking leads to the ability to quantify your profits on each project.
The time can be tracked as billable or non-billable. The reports allow you to easily understand what's going on with your business in terms of time spent on various projects. You can integrate with other time management tools as well, making it a valuable part of your app toolbox.
The platform seems to be primarily online, but still very versatile.
Get it from the Minterapp site
5. SignEasy
For online signatures
SignEasy fills documents and allows you to give and get signatures on the go. The app is compliant with the ESIGN Act, eIDAS, and the European Directive so you have binding contracts solidified on your phone, laptop, or tablet.
Anything you need to have signed can all be done electronically. And you can sign with your finger. This saves you from having to meet someone in person or having it couriered.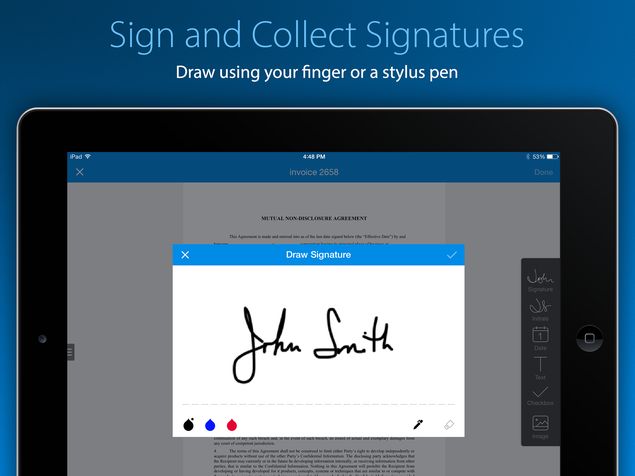 Get it from App Store  |  Get it from Google Play
6. Calendly
For setting up meetings
Calendly makes it easy to set up meetings. You can share your links to the app through email invitation or embed it on your site so clients can set a time to meet with you. The time zone detection makes it easy for you to meet up without the confusion of time zones.
It can be integrated into your calendar, so you don't run the risk of double booking. It's not just for creating one on one meetings either; it also supports a group or round robin style of meeting.
Get it from App Store  |  Get it from Google Play
7. Shake
For creating contracts
If you're a solopreneur, you probably don't have an on-call lawyer to make contracts for you when you need them. You don't need one with Shake.
Imagine this, you've met up with a potential client and you need an agreement to solidify a contract. You can do this in minutes with Shake. If you've been on a video call, you can send it over for an electronic signature. Whether you're looking to create a non-disclosure agreement or bill-of-sale agreement, Shake can.
Get it from App Store  |  Get it from Google Play
8. Square
For payment collection
Square is a free point-of-sale app that makes it easy to make and receive payments. It helps you with your inventory as well. As a solopreneur, you might just need it for the simple function of receiving credit card payments on the go.
As your business grows, you can customize it to do more. You can pay employees through Square and access business loans too.
Selling online is made easy with Square. They can help you with your website development and integrating the payments on it. They work eCommerce platforms.
Square also has classy looking hardware for accepting payments, making your POS look professional when taking payments in person.
Get it from App Store  |  Get it from Google Play
9. Pocket
For storing articles, blogs of interest
Part of your business may include giving information to your followers to better engage with them. This means you have to also get information. When you find an interesting article and you can't read it right away, you can use Pocket to store it for later.
You can save anything in this "save it for later" app, including publications, pages, and apps. Once it's saved in the app, you can access it from other devices, even if you don't have access to the Internet.
Get it from App Store  |  Get it from Google Play
10. Simple Note
For quick note-taking
Simple Note is for when you have an inspired idea and you need to write it down before you forget. When you put a note in the app, it will stay updated with all your other devices. You can tag your notes so they're easy to find later.
It also note just for mobile. It's compatible with pretty much all major PCs and devices.
You can easily share with others or post your notes online. One great feature too is the version slider, which allows you to go back in time. It's all backed up and accessible, even if you delete or make changes.
Get it from App Store  |  Get it from Google Play
11. Wunderlist
For note-taking and communication
Wunderlist is another note-taking app with a little bit extra. It not only lets you to take notes but you can also start conversations and set reminders pertaining to notes.
You can set tasks and deadlines and even add media to any list. Whenever you need to, you can then share lists and message back and forth.
Get it from App Store  |  Get it from Google Play
12. Eight
For scanning business cards and managing contacts
Eight is beneficial to the solopreneur because you can conveniently and accurately scan business cards. It's going to make you look savvy too. The fact you can electronically input someone's business card information in your phone with a click.
Once you have contact, it works additionally as a professional social network. You can get in touch with your contacts easily, which can maximize your business relationships. You can track your relationship by adding notes.
When you have other people using it as well, it becomes an easy way to stay in stay in touch and create business opportunities.
Get it from App Store  |  Get it from Google Play
13. TripIt
For planning travel
If you're a solopreneur who does a lot of traveling, TripIt is a great app to organize all the details. You forward your confirmation emails to the TripIt email and it creates an itinerary for you.
You'll get reminders for when you should leave for the airport. It also helps you find places to eat near your hotel or at the airport.
Get it from App Store  |  Get it from Google Play
14. Concur
For managing expenses
Concur makes traveling simpler. It also manages your expenses and invoices. It offer you an easy to look at your finances and control spending. There is an online travel booking tool that brings together all your information.
Concur can generate expense reports based on what information you put in it. Say you go for a coffee, you can take an image of the receipt within the app. It then categorizes and maps your expenses.
Photo attributed to Concur
Get it from App Store  |  Get it from Google Play
And 5 more….
15. RescueTime
For time management
Where most time management apps work by you setting time for various tasks, RescueTime works a bit differently.
RescueTime is a time management app with a few extras that set it apart. When you install it on your device, it runs in the background, where it can track how you spend your time.
At the end of the day, it gives you a report on how you spent your time. You'll see what activities you did, which gives you insight on how to improve your time management. The app can block distracting websites based on how much time you tell the app you want to focus on work.
It also breaks down how much time you spent in meetings, looking at emails, on apps, or on various websites. You can set alerts so the app can let you know when your time is up on an activity.
16. SOS Inventory
For order management and inventory management
If your business has physical stock and sends it out to all points of your country or the globe, SOS Inventory is a companion app that will help you keep it all straight. It integrates with QuickBooks for smooth inventory and order management better that adds to what  QuickBooks alone can provide.
Get it from the SOS Inventory site
17. Mint
For budgeting and all things financial
As a solopreneur, there may be downturns in business. If you haven't financially planned for these, you might not have the capital to keep running your business. Mint is a financial app to ensure that doesn't happen. You can manage your budget easily and get suggestions from the app based on what you spend money on.
The app brings all your financial information to one app such as your bank account, bills, investments, and credit cards. A nice feature is that it keeps track of your credit score and gives you tips on how to improve it.
Get it from App Store  |  Get it from Google Play
18. Dropbox
For storing, accessing, sharing files
Dropbox not only frees up your devices by making it possible to store large files, it also allows you to access the files across your mobile devices. You can then view, edit, and share all types of documents from your phone.
There's access even when you're offline and you can share files with a client who doesn't have Dropbox.
Get it from App Store  |  Get it from Google Play
19. 1Password
For password management
Do you have a big list of passwords that are hard to find when you really need them? A way to keep them all in one place with quick accessibility is with 1password. It keeps all your information in a secure spot with just one master password to contend with.
When you add the browser plug-in, you can easily save all your account, credit card, and licensing information. It also remembers entries on forms you've filled out online.
Get it from App Store  |  Get it from Google Play
20 Headspace
For controlling stress
In Tim Ferriss' book Tools of Titans, he reveals how over 80% of the successful CEOs meditate daily. As a solopreneur, you have a lot of responsibilities. You're probably under a lot of stress because of this.
Keeping your stress levels down and learning how to control your mind can help you in your daily business. Headspace is one of the top health and fitness apps out there for good reason. You can easily access guided meditations and mindfulness exercises on demand.
Get it from App Store  |  Get it from Google Play
These 20 apps will help you in all aspects of your business no matter where you live in the world. There is less outsourcing required for those essential tasks your business needs. They free up your time, help you stay organized, and assist you with finances.
Many of the base plans are free as well. This reduces a lot of stress and problems for the solopreneur, freeing you up to do what you do best.