Most Active Entrepreneurial Events in Delhi, Mumbai, and Bengaluru
India added 1,200 new technology startups in 2018. This took the tally of total tech startups to about 7,700, making India the third largest hub for startups in the world.
And entrepreneurs behind these startups are always looking for people with a similar mindset, including mentors.
They count on people with high competence who can assist them in taking their startup to the next level. Are you one of them? Or aspiring to be one of them?
For all this to happen, you need to network efficiently and build connections. To help you out, there are some major entrepreneurial networking events that take place in the major cities of Delhi, Mumbai, and Bengaluru.
Let's take a look at them so that you can start building your own network now.
1. Startup Weekend
---
Location: Mumbai, Bengaluru, Delhi, and many others
Main topics: Starting a new company and learning how to work as a team, mentorship
Types of people who attend: People interested in becoming entrepreneurs, early-stage entrepreneurs
---
As the name suggests, this event takes place on almost every other weekend. Organized by a Seattle-based NPO, this event aims to equip the entrepreneurs with a network of like-minded people and mentors who can help them grow their businesses.
It helps in generating new ideas and analyzing their feasibility. Additionally, the entrepreneurs can get an idea of the feasibility and scope of their startup as well. With a strong presence in Mumbai, Bengaluru, and Delhi, among other cities, Startup Weekend has a big impact on the startup landscape.
Image via Techstars
2. Google Business Group
---
Location: Mumbai
Main topics: Mentoring, knowledge sharing, market testing, and more
Types of people who attend: Young entrepreneurs
---
While Google Business Group does have a presence in Bengaluru and Delhi, its stronghold is in Mumbai. Here, it conducts events on a regular basis and strives hard to become the single go-to place for all startups in the city.
By organizing various virtual and face-to-face events, this non-profit organization tries to provide knowledge to entrepreneurs apart from being a place where they can network with others. To make the events even more inclusive, they keep them free of cost to attend.
Image via Techdivine Creative Services
3. 91Springboard Events
---
Location: Mumbai, Delhi, Bengaluru, and 6 other cities
Main topics: Mentorship, technical skills, art
Types of people who attend: Young entrepreneurs and employees of startups
---
91Springboard is a popular co-working space in Mumbai, Delhi, Bangalore, and other popular cities of India. While it does provide a great space to work, it even makes sure that all the budding entrepreneurs get to network with others in the business.
For this reason, they have various events hosted throughout the year. From something as simple as painting workshops to open business networking events, they have it all. Many of these events also help equip you with additional skills that will help you in the future of your business.
Image via 91Springboard
4. Startup Saturday
---
Location: Delhi, Mumbai, Bengaluru, and 26 other cities
Main topics: Mentorship, digital marketing, challenges of running startups
Types of people who attend: Serial entrepreneurs, investors, early-stage entrepreneurs
---
Startup Saturday is an event that is held on every second Saturday of the month in various cities of India, including New Delhi, Mumbai, and Bengaluru. However, it's the most active in Delhi where events are held on a regular basis and range from niche meets to general networking events.
Hosted by Headstart, a grassroots organization that supports startups and entrepreneurs, this event has garnered tremendous support over the past 10 years. Over time, they have facilitated over 1 million connections throughout the country.
Image via Headstart
5. TiE Events
---
Location: Mumbai, Delhi, Bengaluru, and 19 other locations in India
Main topics: Mentorship, technical skills
Types of people who attend: Angel investors, Early-stage startup entrepreneurs
---
TiE stands for The Indus Entrepreneurs and is a global non-profit organization that aims to give out the best to budding startups. It has developed a strong base in the major cities of India including Delhi, Mumbai, and Bengaluru.
They frequently host events such as business guidance camps and one-on-one mentoring sessions with top angel investors. Every single event of theirs ensures that entrepreneurs can get value out of it and grow their business from the lessons that they learn.
With about 10,000 startups globally and over 15,000 members across 60 chapters, this is probably one of the biggest organizations for entrepreneurs.
Image via TiE Mumbai
6. Indian Angel Network Events
---
Location: Delhi, Bengaluru, Mumbai, and Chennai
Main topics: Talks about running businesses from a CEO and investor's perspective
Types of people who attend: Young entrepreneurs, angel investors
---
The Indian Angel Network is a group of angel investors who are keen to help budding startups grow. Not only do they help startups in monetary terms but even brings loads of experience to the table which can help budding entrepreneurs.
They conduct events regularly throughout the country. Their main event is the Chai@IAN, which brings an angel and an entrepreneur to share their advice based on their experience in running their business ventures.
While their events are held across the country, a majority of them are held in the Delhi NCR region. A few are held in Mumbai and Bengaluru as well.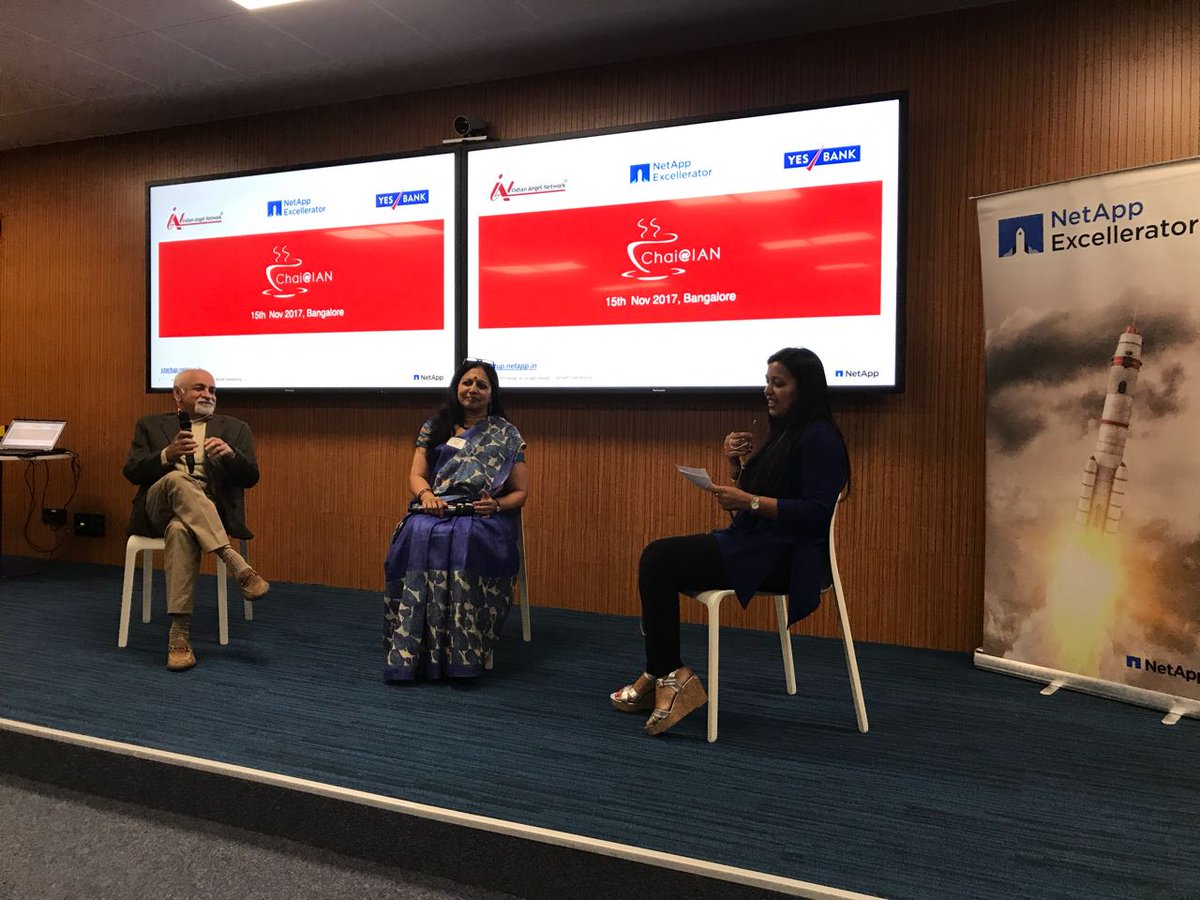 Image via Twitter
7. UnPluggd
---
Location: Bengaluru
Main topics: Product development, tech, startups
Types of people who attend: Marketers, product leaders, founders, investors, tech lovers, CXOs
---
NextBigWhat's flagship event is UnPluggd. While this event doesn't take place on a weekly basis, it is conducted on a massive scale every couple of months. Spread out across 3 days, this event ensures that all the who's who of the startup ecosystem in India are present under one roof.
Over 3 days, entrepreneurs, investors, geeks, marketers, and product leaders gather to discuss their ideas to grow businesses. It is common to find the top executives of some of the biggest startups of the country such as Flipkart and Swiggy come here to speak.
Bengaluru, being the hub of startups in India, is most often the choice of venue for these meetups for UnPluggd.
Image via eChai Ventures
8. Indian Startups
---
Location: Bengaluru, Delhi, Mumbai, and Hyderabad
Main topics: Looking for co-founders, sales, marketing, funding strategy
Types of people who attend: Investors, entrepreneurs
---
Indian Startups is a community with more than 50,000 members across the country. It strives hard to build up the startup ecosystem in the country through education, mentoring, incubators, and more.
To help entrepreneurs network, they conduct events regularly throughout the country. The major cities where their events are conducted are Delhi, Mumbai, Bengaluru, and Hyderabad. They even have meetups for those who are looking for a co-founder or wish to become a co-founder of a startup.
In addition to physical meetings, they have online meetups as well which make it even more convenient for startup owners to network with others.
Image via Meetup
9. Earning Labs
---
Location: Delhi NCR
Main topics: Digital marketing
Types of people who attend: Young entrepreneurs, mostly men in their 20s and 30s
---
Earning Labs is a fairly new entrant in the field of networking events. However, within a short span of time, they've gathered over 20,000 members across the nation and have become one of the fastest growing communities of digital marketers in the country.
While the community is tightly knit and engages on a regular basis on social media, they do host regular meetups too. Most of these take place in the Delhi NCR region where a majority of the members reside.
Their meetups are mostly by the entrepreneurs and for the entrepreneurs that make them highly engaging too.
Image via Facebook
Final Thoughts
The startup ecosystem in India is building up at a fast pace. This makes it necessary to equip every entrepreneur with the skills and network necessary to grow their startup.
These networking events in the major metro cities of India help them share and polish their ideas. The presence of mentors and industry leaders at some of these meetups can even give them valuable insights into their industries.
Which entrepreneurial networking events have you attended in India?