Kenya, for most people, conjures up images of beautiful grassland savannah, giraffes, zebras, safari. While these are indeed features of our country, Kenya is in fact one of the most developed countries in Africa. The capital Nairobi plays host to major global organizations such as the United Nations, UNEP, and other multinationals, and is naturally home to a large group of expats.
Kenya's population is also young, according to data from the US Population Reference Bureau, which noted that Kenya's millennials add up to 10.1 million of the roughly 49.9 million Kenyan citizens. The same data indicate the country's ratio of youth to the population stands at 20.3% which is well above the global average of 15.8%.
My country's population is diverse and has more than 42 local ethnic groups, Indians, Asians and Europeans. Kenyans are warm, friendly and welcoming to visitors. With the burgeoning youthful population, Kenya is rife for business with a ready workforce.
The Business Scene in Kenya
Kenya's economy is one of the most vibrant in Africa and for many years it has been the leading economy in East Africa. Its political stability has seen major multinationals in different fields set up base here. Most of these companies are in telecommunications and the fast-growing technology sector. Cisco Systems, IBM, General Electric, and Coca-Cola are just a few examples.
According to the World Bank youth unemployment is on the rise in the country. The UN's report however offers some glimpse of hope for the country by suggesting that if effectively managed the youth bulge could be one of the key drivers of the country and continent's growth.
In 2018, Kenya's real GDP grew an estimated 5.9%, with 2017 having had 4.9%. It is projected that the GDP will grow by 6.0% this year and 6.1% in 2020. The service sector accounted for 52.5% of this growth with agriculture and industry contributing 23.7% and 23.8%, respectively. In 2017, the government came up with an economic plan christened the Big Four.
Its main focus is on manufacturing, affordable housing, universal health coverage, and food and nutrition security. The goal is to enhance structural transformation which is set to address systemic social economic issues. This is expected to spur economic growth and get to at least 7% every year which is expected to address the rising poverty numbers by creating decent jobs.
How We Connect & Network in Kenya
The World Travel Awards named Nairobi as Africa's leading business travel destination, while the city's iconic KICC building was awarded Africa's leading meetings and conference destination at this year's awards.
Kenyans network a lot and it is not uncommon to find a Kenyan in multiple groups that offer different benefits. To thrive in business anywhere in the world, your network is key. People within your network might not be your clients, but they might know someone who is.
The way the Kenyan system is set up, it's pretty difficult to navigate your way without good connections. It helps a lot if you know someone who knows someone that you might need. InterNations, one of the biggest groups for the expatriate community in the country provides expats with a great opportunity to meet fellow expats and offers invaluable assistance.
There are numerous chambers of commerce from different countries apart of course from the local chapter of the Kenya Chamber of Commerce.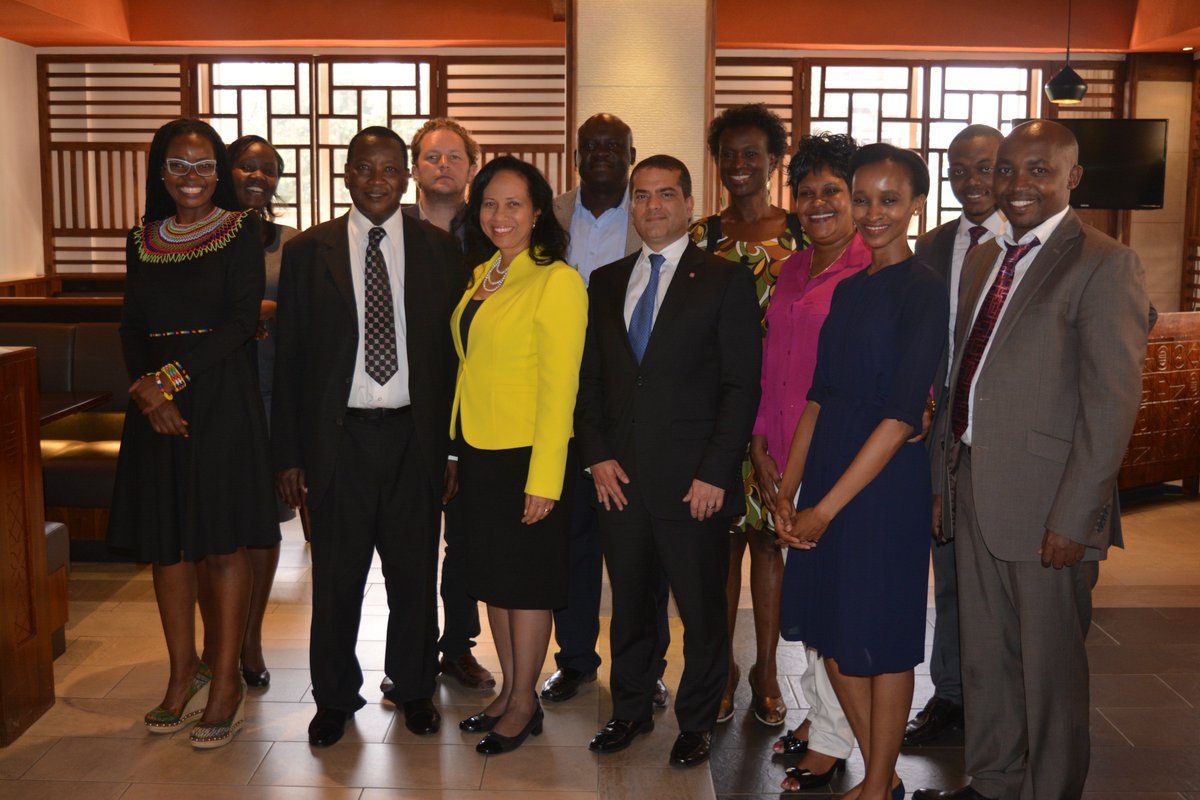 Others include the US AMCHAM, British Chamber of Commerce Kenya, and India's Indo-African Chamber of Commerce and Industry. They all have massive experience in the country and would be great platforms to network more. See if your country has one; you can simply Google it, or check with your embassy. You'll get free business advice, contacts, and services from them.
Rotary clubs, such as Rotary Club of Nairobi, are another solid way through which we network and would be ideal for anyone that is interested. They have branches across the country.
Eventbrite is a reliable place to find some of the upcoming networking events in the country. It's been a useful source for some of the best networking forums I've attended. There are plenty of meet up opportunities and Meetup is always reliable for finding something of interest. These are all potential avenues to network and make your way into Kenya's business scene.
Aspen Network of Development Entrepreneurs has an East African chapter with quarterly meetings. It's ideal for entrepreneurs in supporting small and growing businesses in East Africa. You can reach out to them for updates.
Startup Grind is yet another platform that expats looking to start businesses in Kenya can use to get local connections that can assist them. They have a Nairobi branch and usually partner with Google for startups to help connect and educate entrepreneurs.
Pangea offers investors a platform that matches African startups with them. They say they create an enabling environment for startups from Africa to develop competence and access relevant networks, and capital to realize their full potential.
Kenyans integrate well with people from other parts of the world despite cross-cultural differences. Over the last couple of years, there's been an upsurge in the numbers of Chinese nationals, most of whom working for Chinese companies involved some of the major infrastructural developments in the country. This is partly as a result of the economic ties recently initiated between the Kenyan government and China.
Unlike other African countries where there have been instances where Chinese nationals have been roughed up by locals, I know of no reports here. More than 400 Chinese companies are reportedly been registered in Kenya, and more are expected.
Tips for Doing Business with People from Kenya
There are two official languages in Kenya – English and Swahili. Most Kenyans are able to speak either, with English being the language used in most formal settings. Learning a bit of Swahili such as jambo, which is "hello," is a terrific icebreaker and conversation starter. It shows you care.
Kenyans appreciate handshakes, and not shaking someone's hand could be seen as rude. A firm, prolonged handshake is ideal if you're a man greeting another man, while women generally use a milder approach. Pay attention and follow your Kenyan counterpart.
We're in fact a very conservative society, so avoid blunt statements even when you think you're just stating the facts. This can make it hard to decode someone's true intentions without offending them. You'll rarely get outright refusal and might be taken around in circles without ever getting a firm "yes" or "no." However, with time and experience you'll understand this culture and how to work within it.
Dress according to the occasion. If you're attending a formal event, dark suits are ideal for men. Women have some more leeway. Building lasting relationships is often your best bet for building great networks in Kenya. And be patient. Patience is a virtue here, and you may find we have a different concept of time that if you're from a faster-paced society.
While events and meetings are likely to start on time, the same cannot be said about their ending. Kenyans are unlikely to jump straight into business even when the meeting is set for that. We'll ask about how you and your family are faring, especially if you're new here, and we may ask about your country. Try to reciprocate.
Some of the best business ideas come up in clubs and bars over a drink. If you're invited for a drink, please show up. As you socialize over your favorite Kenyan drink, you may end up sealing a deal that you might not have otherwise done in a more formal setting.
Nairobi is home to a huge expatriate population, so your presence isn't likely to create as much of a buzz as it would outside the city. And if you're white, you'll most likely hear kids calling you mzungu, which is Swahili for white man. Just smile and wave at them. It's not a bad thing.
How We Stay in Touch
Kenyans are big on social media and naturally most people here use it to keep in touch. Facebook and WhatsApp are the most popular means to stay in touch. LinkedIn is making progress for business, but the former two are dominant. Facebook groups such as Expats in Kenya are active with expats networking and sharing ideas in diverse spheres of life.
After a business networking event it's common to get added to a WhatsApp group that has people with similar ideas. I'm personally in dozens of groups, sometimes added by complete strangers. These can be good, but they're also easily overlooked. They're not that personal.
Make sure you personally exchange contacts with any prospects. Then reach out to your contacts within the first 48 hours. I'm not saying you should immediately start spamming them with text, just a simple check in. Don't leave it for a month. Show your interest in working together for something beneficial.
Most people will give you their business cards, so make sure you carry yours, and use an app like Eight to scan and manage your new cards. The app has both contact management functionality and serves as a social media platform. In hotter climates, that makes things a lot easier than having stacks of paper in you pocket.
Final Words on Networking and Connecting in Kenya
Kenya is a beautiful country with amazing people, if I do say so myself. We're very welcoming, and you'll find it's very easy to fit right in and make good bonds. You just need an open mind and a good network. The culture does tend to be pretty conservative, so stay modest and be tactful. If you're finding a deal isn't moving along, perhaps it's your tone.
Try meeting Kenyans at their level and that should do the trick. We're sociable people and we welcome you.
---
Guest post by Sammy Ngatia; connect with him on Twitter @Kenyan_Red or Facebook. Sammy is a Nairobi-based journalist currently transitioning into academia.