In today's digital landscape, having a website is an essential piece to any business. But simply having one isn't enough. Just because a consumer visits your website doesn't necessarily mean they will buy something. If you're able to obtain their contact information, however, you can effectively market to them in hopes that they will return to buy something in the future. So how is this done?
Lead magnets are one of the most common tactics employed by businesses to obtain consumer contact information and reach larger, potential audiences. This article defines what lead magnets are, and outlines the various ways they can be implemented to benefit your business.
What is a Lead Magnet?
A lead magnet is a marketing concept through which a company gives away a free item or service, as a means to attract (like a magnet) potential new customers, in exchange for the potential customer's contact information – typically their email addresses.
The primary purpose of this is twofold:
Identify potential customers, or "leads," so companies can create more targeted marketing efforts to appeal to them; and
Accumulate the contact information for these leads so companies can actually reach them with the marketing campaigns.
The overall goal is to convert potential customers into paying ones.
Best Types of Lead Magnets
Now that we know what a lead magnet is, what does it typically look like? Here are four examples of common and effective lead magnets that companies can implement into their business' marketing efforts: 
Checklists
Checklists are a popular type of lead magnet because they tend to produce the highest converting rate. This is likely because many people use a form of checklists in their daily lives to achieve various tasks – be it a to-do list at work, a list of ingredients when you shop at the grocery store, or a packing list in preparation for a big trip. Their format is both familiar and easy to consume, which makes them appealing.
To use them effectively, a company can create a specific checklist that it believes would be of interest to people who would also be interested in their company. For instance, if you're a moving company, you may create, "The Ultimate Checklist For Packing up your House." When people click to get the checklist, they must provide their email address to access it.
Discount Coupons
Who doesn't love a good deal when shopping for products and services? Companies can create discounts for the purpose of attracting new customers. As potential consumers browse your site, offer them a discount code in exchange for their email address, which they could then put towards a purchase through your website.
Free Webinars
Short courses and webinars are attractive, especially to people who are looking for ways to expand their knowledge in a specific subject. Companies can develop and offer quality, free webinars within a limited time period, and encourage people to register for them by signing up using their email addresses. 
Cheat Sheets
Let's say your company's website has a blog or video tutorials that discuss complicated subjects. You can offer your audience one-page cheat sheets on various topics addressed so they have a tool they can save and refer back to as needed. It can be a summary of a given subject or a bulleted list of the most important points from a video on your site. Again, consumers would have to provide their email address in order to obtain the content.
Implementing a Good Lead Magnet: 6 Questions to Consider
Consumers are constantly bombarded with online marketing efforts these days, so they aren't simply going to give their email addresses away for nothing. They need to feel that there is a value in giving their contact information, and lead magnets are an effective way to create that value.
Here are six questions to consider when creating and implementing a good lead magnet:
1. Does it offer a high perceived value?
What will people consider before providing their email address to a particular website in exchange for something? The value of whatever it is they are getting in return.
Companies need to understand what they're target demographic is looking for, and tailor these lead magnet offerings to them. For instance, potential customers of a jewelry company are likely interested in jewelry.
Offering them a discount on items is going to be more valuable than, say, a free webinar. But for a B2B company that's targeting other business owners, a short-course webinar on a relevant topic like business marketing strategies would be more valuable to sales prospects. The higher the value of your lead magnet offerings, the faster you'll be able to build out your email list.
2. Does it deliver on that value?
A lead magnet that looks valuable or appealing on the outside may initially appeal to potential customers, but if the offering lacks substance, the company won't succeed in converting those leads to sales.
For example, it's not enough to entice people with a hollow checklist. Companies need to make sure that once potential customers click on that checklist and give their email address in exchange for it, they're receiving something of high quality and that delivers on what it's promising.
The more relevant, substantive, and specific an offering is, the better. Companies that mislead customers with offerings that fall short, may gain a reputation for trying to cheat their customers which could hurt the brand in the long run.
3. Does it promote solutions your company provides?
When a consumer visits a company's website, it's most likely because they have a problem they think that company's product or service may be able to solve. If you're a business owner, you know what problems your company solves. Make that information available through your lead magnets.
Back to the moving company example. If someone visits your website, it likely means they are planning to move. Creating a checklist for packing up your house efficiently helps solve a piece of their overall problem – how can I most easily move from one place to the other?
4. Is it specific?
It's worth noting that vague lead magnets will lead to fewer conversions. When creating one for your company, it's imperative to be ultra-specific as to what type of solution you're providing and which market(s) it would appeal to.
For instance, a short course on creating a high-converting lead magnet would appeal to business owners looking to implement a lead magnet marketing strategy for their business. The more specific you are, the better your conversion rates will be.
5. Is it easy to consume?
People's attention span for reading content has shortened. If the content offered in your lead magnet is too wordy or long with little white space in between paragraphs, people will likely lose interest and leave your page.
Break your content down into digestible sections. Checklists do this particularly well as they are divided into concise bullet points that are easy to scan through.
6. Will it persuade customers to buy from you?
Your lead magnet should do more than inform, it should also change the way people think about your brand. It's essential to tailor your lead magnet in a way that will display your company's unique selling proposition. Why should your target audience buy from you? What makes your product or service special? Design your lead magnets so they have answers to these questions.
Final Thought on Lead Magnets
Without a doubt, lead magnets can be a great way to build a contact list of prospective clients and improve your company's sales leads. As long as you provide a good-quality and highly-valuable lead magnet, there is a higher chance that consumers will be enticed to come back to your site. This will then translate to better conversion rates and profitability ratios in the future.
Guest Author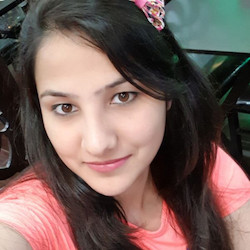 Rumzz Bajwa is a content marketer at SMB Compass. You can frequently find her immersed in a good book or out searching for a new experience.